Guatemala Study Abroad Program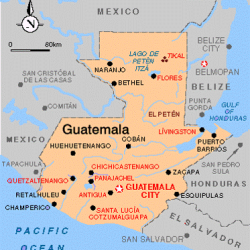 Visit the country of "eternal primavera," Guatemala filled with incredible diversity and charm. Encounter the deep needs and challenges in learning about its history, the conflicts and effects of their civil war and the many models of peacemaking offered by Christian communities.  We will visit and stay in the country's capitol Guatemala City, and visit its surrounding villages and cities. Students will have the unique opportunity to live with local families and be exposed to the everyday life of its people. 
FPU is excited to partner with the Central Americas Anabaptist Seminary SEMILLA and participate in their CASAS Program 2021. During our time in Guatemala you will:
Study daily at the Semilla Seminary
Experience learning both in the classroom and visit with organizations.
Eat Guatemalan food and experience the culture, the arts and emerge in its many languages.
Earn academic credit for a summer of study (Focus Series).
Be enriched by the cross-cultural global experience.
Grow in your Christian walk and understanding of God's call on your life.
Cost
We are still working on the cost of the trip, but at this point we anticipate it to be about $3000, including a $1000 FPU scholarship.  Students are also responsible for any additional costs for obtaining a passport, visa and vaccinations ($200-$500).
Credit and courses
SEMILLA, the Latin American Anabaptist Seminary of which CASAS is a department, offers credit in coursework to meet some or all the required coursework for the FPU Focus Series required for all undergraduate students.  Students may earn a maximum of 6 units of credit from the program and three units of waiver for this cross-cultural experience. Courses included for undergraduates will include:
History and Culture of Latin America (3)
Building Peace in Settings of Conflict and Violence: The Guatemala Case Study (3)
Deadline and Application
January 14, 2022 first nonrefundable deposit of $200 due.
Dates
Tentatively May 13, 2022 - June 11, 2022
For more information, contact: