Vietnam, Cambodia, and Thailand Study Abroad
Vietnam (16 days)
Vietnam is more than a war, it is a beautiful and culturally rich Southeast Asian country. Join Ken Martens Friesen and another FPU faculty as they lead a group of students (alumni too!) through the spine of Vietnam, from the ancient capital of Hanoi, through the historic 19th century capital of Hue, to the multi-cultural trading center of Hoi An, and finally down to the modern and elegant 'pearl of the orient,' Ho Chi Minh City. The 14 days spent will be a rich and deep dive in the history, culture, economics, and politics of this very unique and bustling Southeast Asian state.
Cambodia and Thailand (10 days)
An optional ten day extension will be to stay with the group as we explore neighboring Cambodia and Thailand.. In Cambodia the ancient Khmer Empire has the glory of golden Buddhist temples and palaces, including the fantastic Angkor Wat, a World Heritage site and once a 15th century sprawling empire. Also in its history is a very dark period of the Khmer Rouge, a totalitarian regime that murdered almost a third of its own people. We'll visit palaces and prisons, sites of splendor and scenes of unspeakable horror.
In Thailand we'll extend the theme of the blending of Buddhist cultural as we explore the magnificent temples and modern wonders that make up Bangkok. From the maze of canals that help provide transport to millions of Thai to the lush jungles and coffee plantations outside the capital city, Thailand provides a fascinating experience for those who want to understand and explore a totally different and very unique Southeast Asia nation.
Dates
Approximately June 20 - July 15
Depart from Fresno Sunday, June 20
Arrive Hanoi Tuesday, June 22
Travel through Vietnam June 22 – July 5
(Optional return to U.S. July 4)
Travel through Cambodia July 5 – 10
Travel through Thailand July 10- 15
Return to Fresno Wednesday July 15
Cost
The cost of the trip will be approximately $2300 for the Vietnam portion, including round trip airfare, all housing, most meals, internal transportation, entrance tickets and English speaking guide. The Cambodia and Thailand portion will be approximately $700 extra. Student scholarships of $500 will likely be available but may be limited to the first ten to apply and put down a $100 deposit. Students will be responsible for any additional costs for a passport and vaccinations required for the trip. ($200- $500).
Credit and Courses
INTB-370 International Business
REL488. Religion and Culture of Vietnam (3 units) (For History and Focus Series Credit)
ICS304 Vietnam Study Abroad (1 unit). Register in Spring 23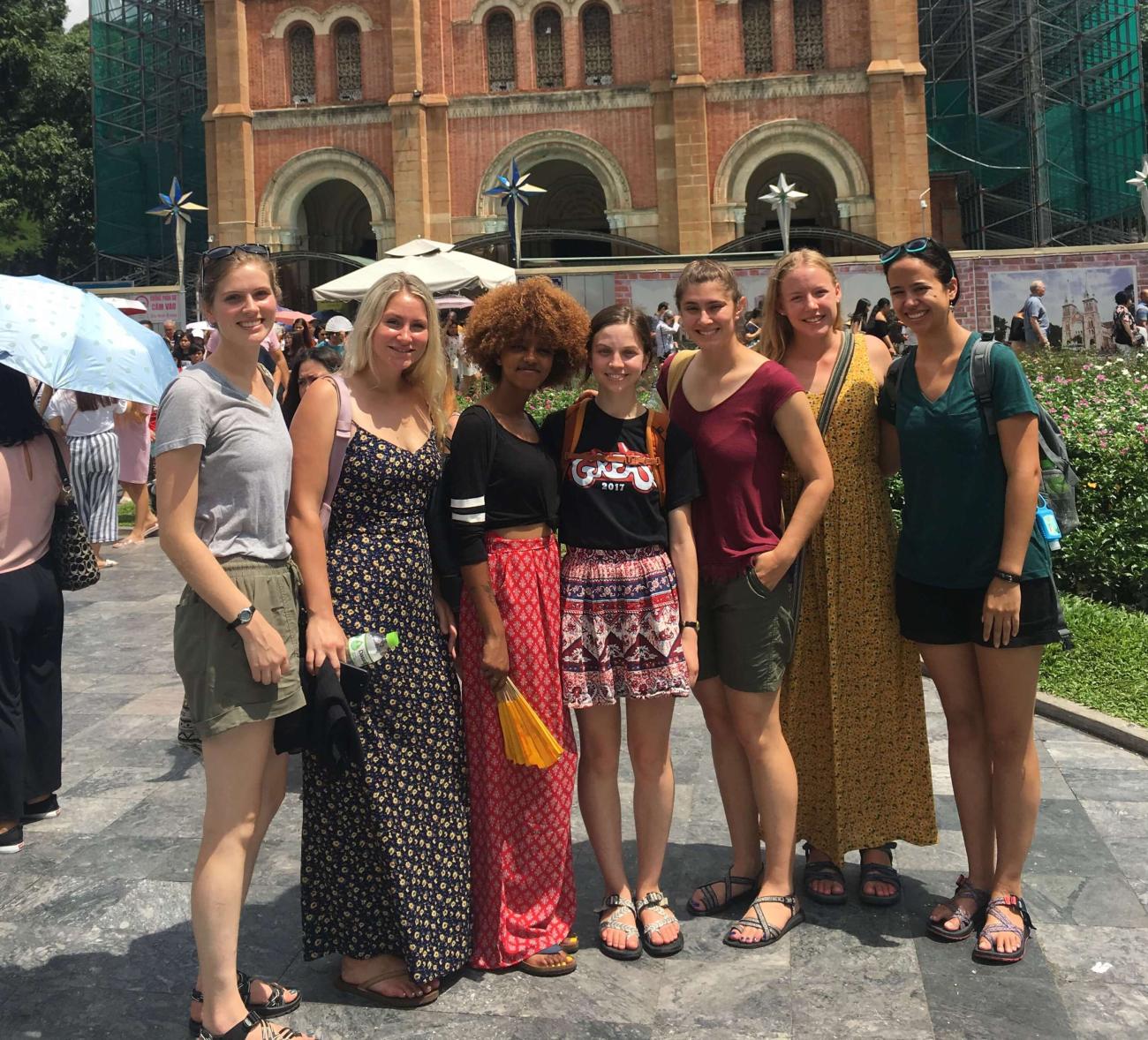 Deadline and Application
November 1: Deadline for priority applications and $100 deposit
November 15: Deadline for priority airline ticket payment of $1000
December 1: Regular application deadline and $100 due
December 15: Payment of regular $1000  airline ticket
February 1: Apply for U.S. Passport
June 1: Balance of fees due for Vietnam/Cambodia/Thailand trip
June 20: Depart for Vietnam
Complete Application
The Southeast Asia Study Abroad trip is full. If you would like to be considered for this trip please contact Ken Martens Friesen directly.
More Information
Contact Ken Martens Friesen
Ken.friesen@fresno.edu or 559-453-7126