Diversity Events & Resources
Celebrate Women's History Month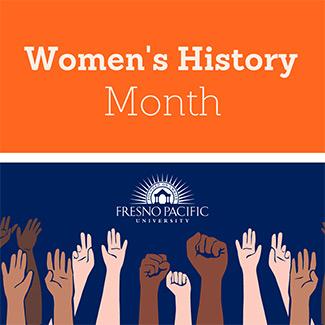 Women's History Month is a time of learning, listening and empowering our fellow women of the community and world. Join the Intercultural Learning Center this month for lectures and socials, as well as community activities and events aimed to celebrate women and pay homage to the trailblazers who paved the way before us making their mark in history.
Happening this month
March 14
Menstrual Product Drive: Starting March 14 you will find different areas on-campus to donate menstrual products. There is an estimated 500 million people who menstruate and lack access to products – we want to make a small impact in our community. All proceeds will be donated to the Sunbird Pantry – to aid in resources.
March 15
"What Motivates Women to Lead," session for DC/Grad Students, Staff and Faculty. This will take place March 15 from 12:45 p.m. – 1:45 p.m., NOH 132.
March 22 and March 24 - Join us in She Inspires: The world. Me.
March 22 - This will be an artistic event where we will invite the community to come into the Intercultural Learning Center and add their artistic mark on a working Mural. The theme will be centered on Women who have Inspired the World!
March 24 - This will be an event were individuals will be able to share the person that has inspired them. Each submission will be shared via polaroid taken in the ILC or you can bring your own picture to be displayed.
If you have any questions or need any additional information, please contact Patty Salinas at patricia.salinas@fresno.edu or Breanne Wyse at breanne.wyse@fresno.edu.
Resources
studentvote.org college student voting resources
All IN to Vote, developed by the ALL IN Campus Democracy Challenge, helps students navigate the voting process.
The National Association of Secretaries of State offers valuable information about registration, voter ID requirements, and polling places in all 50 states.
USA.gov, the official web portal of the federal government, maintains a site regarding "Absentee and Early Voting" with specific information about "Coronavirus and Voting by Mail-In Absentee Ballot."
Democracy Works How to Vote provides guides to help voters understand what options states offer for casting a ballot.
Vote.org aspires to use technology to simplify political engagement and increase voter turnout.
Vote411, an initiative of the League of Women Voters Education Fund, offers a polling place locator and provides a broad range of additional registration and voting information.
Mental Health Resources
On-Site Counseling Program is a FPU subsidized, confidential, professional counseling service available to FPU students and members of the community who are experiencing personal obstacles. On-Site Counselors are available by appointment to assist individuals with relationship problems, adjustment issues, grief and sadness, worry and anxiety, and unhealthy coping patterns. All sessions are currently taking place via Telehealth due to COVID-19. For more information, please call 559-453-8050 or e-mail onsite@fresno.edu.
Healing Circles @ Fresno Pacific University 2020 has been a very hard year for our black and brown communities. Here is an opportunity to come together in a community to heal from trauma experienced through racism, white supremacy, and micro-aggressions. Below is the information needed for our Licenced therapists from onsite and private practicing professionals who need this info for you to be registered for the session. Your information will always be kept confidential.
Immigration Resources
Immigrants Rising: Immigrants Rising's Mental Health Connector provides undocumented young people with psychological support, allowing you to access your strengths and resiliency in order to achieve your personal goals and healing.
ACLU: Know Your Rights for Dreamers/DACA
UFW Foundation: Provides a variety of immigration-related services 2409 Merced Street Suite 103, Fresno, CA 93721, (559) 496-0700 Monday - Friday 9:00 am - 5:00 pm
List of local non-profit agencies that immigration services and other public services can be found in this document: Immigration Org 2019
LGBTQ+/Gender-based violence/discrimination resources
Trans Lifeline: 877.565.8860
The GLBT National Hotline: 888.843.4564
Rape Counseling Services (RCS) Fresno: 559.222.7273
National Network (RAINN): 800.656.4673
Marjaree Mason Center: 24 Hr. Hotline (800) 640.0333