As the parents and families of current students, you are also part of our FPU community! We want to keep you informed of what is going on around campus and be your partner in supporting your student in this stage of their life. Take a look around at the resources we have for you and reach out to our Campus Life department if you have any questions.
Parent Brochure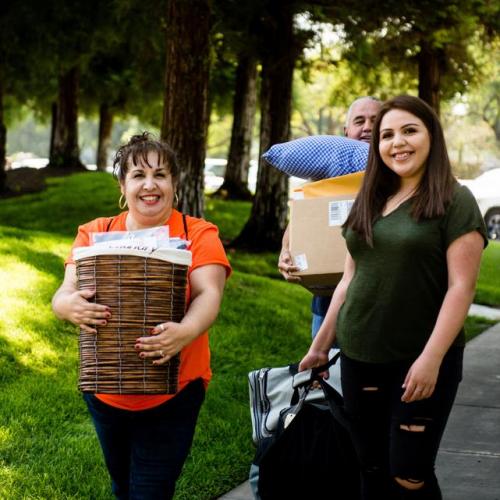 Stay Connected
Stay connected with your student and with the university through official FPU communication.
With your student

Send a letter

Send a letter or a care package. Here's how to address it:

Sunny Sunbird (or your student's name)
Fresno Pacific University
1717 S. Chestnut Ave.
Fresno, CA 93702

Send a letter

Surprise your student with a special treat! Whether it's for a birthday or an "A" on a test, let them know you think they are special by ordering a treat individually prepared just for them.

With the University
Services and Resources
Academic Support

Campus Safety

Tuition & Financial Aid

Student Support & Misc.

TimelyCare: Medical Care for Traditional Undergraduates

 

What is TimelyCare?
Access to 24/7 medical and mental health support for all Fresno Pacific students.

Who can use TimelyCare?
Any enrolled Fresno Pacific student can use TimelyCare.

What services are available?
24/7 Medical visits and TalkNow visits (24/7 mental health support) visits are available at no cost.

What can I be treated for?
Our physicians and counselors can treat/discuss a wide range of common conditions, and after talking to you, will decide on the best course of treatment. Some common conditions are: cold sinus infection, influenza, stress and anxiety, relationships, depression, nutrition and healthy lifestyle.

How much does a visit cost?
There is no cost to enrolled Fresno Pacific students.

I already have insurance and a primary provider, how does TimelyCare benefit me?
With TimelyCare, you will have free, 24/7 access to doctors and counselors from anywhere in the United States, so you'll never have to spend time or money looking for resources when you're away from home or campus.

Can I get a prescription?
Yes, if the provider deems it clinically appropriate.

How do I login?
Go to timelycare.com/FresnoPacific
* Mobile users will be directed to download the TimelyCare app.

Local Churches

The following list of local churches is just sampling of the many churches in the area. Many of our students, staff and faculty are a part of these congregations.
Visiting Campus
We encourage you to visit Fresno Pacific University's main campus frequently throughout the year. Why not join your student for lunch in the cafeteria? Or cheer on one of our many Sunbird athletic teams? Or attend a theater or music performance?
Directions

FPU's main campus is located on the southeast corner of Chestnut and Butler avenues. View the Google map or follow the directions below.

Fresno Pacific University
1717 S. Chestnut Ave.
Fresno, CA 93702-4709
559-453-2000

From the south:

Travel north on Highway 99 to Fresno. Take the Malaga/Chestnut Avenue exit and proceed north on Chestnut 3.5 miles to Hamilton Street. Turn right (east) on Hamilton. The campus is on the left (north) side of Hamilton. Parking is available in the Steinert Field lot at the southeast corner of Hamilton and Winery.

From the north:

Travel south on Highway 99 to Fresno. Take the exit marked "To 41 North," which is the new 180 Kings Canyon Highway, east about 5 miles to Chestnut Avenue. Turn right (south) on Chestnut and travel about two miles. Turn left (east) on Hamilton. The campus is on the left (north) side of the street. Parking is available in the Steinert Field lot at the southeast corner of Hamilton and Winery.

Nearby Hotels

The following is a list of nearby hotels. Be sure to mention that you will be visiting Fresno Pacific University when making your reservation and many of these hotels will offer you a discounted rate.

Hotels Near the Fresno Yosemite International Airport

Approximately 5 miles from FPU

Best Western Plus
1551 Peach Avenue
Fresno, CA 93727
Phone: 559-251-5200 or 1(800) 780-7234

Piccadilly Inn - Airport
5115 E. McKinley Avenue
Fresno, CA 93727
Phone: 559-251-6000

Quality Inn
5113 E. McKinley Avenue
Fresno, CA 93727
Phone: 559-375-7720

Hotels Near the Riverpark Shopping Center

Approximately 10 miles from FPU

Comfort Suites
102 E. Herndon Avenue
Fresno, CA 93720
Phone: 559-435-5650

Hampton Inn & Suites
327 E. Fir Avenue
Fresno, CA 93720
Phone: 559-447-5900

Extended Stay America Fresno - North
7135 N. Fresno Street
Fresno, CA 93720
Phone: 559-438-7105

La Quinta Inn & Suites
330 E. Fir Avenue
Fresno, CA 93720
Phone: 559-449-0928

TownePlace Suites
7127 N. Fresno Street
Fresno, CA 93720
Phone: 559-435-4600

Holiday Inn Express Hotel & Suites
7155 N. Howard Street<
Fresno, CA 93720
Phone: 559-577-1350

Springhill Suites
6844 N. Fresno Street
Fresno, CA 93720
Phone: 559-431-0004