Spring Commencement Ceremony Details
We are looking forward with anticipation to our Spring commencement ceremony in May! Please see below for updated information regarding this year's Spring commencement:
The live stream of the ceremony is available for viewing here. The ceremony will also be recorded and available for viewing at a later date by using the same link.
We will be hosting one commencement ceremony honoring all student populations (TUG, Grad and Degree Completion) on Saturday, May 6 at 10:00 a.m.
The ceremony will be held at Selland Arena in Downtown Fresno located at 700 M. Street, Fresno CA, 93721. Graduates will be seated by school. Please view this map to see which side of the arena floor each school will be seated on.
Doors open to the arena for guests at 8:30am, see this map to view available entrances to the arena.
No air horns, balloons or glass vases are permitted inside of the building.
For information on security and policies related to the convention center please visit this webpage.
Line Up Information
Line up for graduates and faculty will take place in Valdez Hall, located directly across the outside concourse from the Selland Arena. Please view this map to see the location of where line up will take place.
Students participating in the ceremony need to be in line up area no later than 9:00 a.m. The lineup area is where you will pick up your name card and line up by school prior to walking into the arena. Please plan accordingly and wear appropriate shoes.
Doors to the lineup area will open at 8:00 a.m.
There will not be a secure place to store valuables so plan to have a discrete way to carry your personal items with you.
Parking
Parking is $20/car in the main parking lot. Please view this map to see locations of nearby parking garages.
Parking is also available in the nearby parking garage and metered parking on the street will also available.
Credential Celebration
Date: Wednesday, May 3, 2023
Ceremony Start Time: 7:00pm
Doors open at 6:15pm
Location: Fresno Pacific University Special Events Center, 1717 S. Chestnut Ave., Fresno CA 93702
For more information, please contact Jan Zoller (jan.zoller@fresno.edu)
Multicultural Celebration
Date: Thursday, May 4, 2023
Ceremony Start Time: 6:30pm
Doors Open at 6:15pm
Location: Warkentine Culture and Arts Center, 4840 W. Butler Ave., Fresno CA 93727
For the current graduating class of Fresno Pacific, we want to invite you and your family to the Multicultural Celebration. All graduates are asked to be dressed in their graduation robe (without a cap), and if desired, have an ethnic sash present with them. At this ceremony will be a special presentation of ethnic sashes - We invite you to have a mentor, a family member, or a significant ally with you during the presentation. Dinner reception to follow. Please RSVP for family members and yourself!
For more information, please contact Cyinna Drotos, Assistant Director of DEI at Cyinna.drotos@fresno.edu or 559-453-2074
Seminary Gala
Date: May 5, 2023
Event Start Time: 6 pm
Doors Open at 5:15 pm
Please join us in celebrating our 2023 Seminary graduates at the annual Seminary Gala. This will be a formal dinner honoring the Seminary graduates of 2023. This year's program includes hooding of the graduates, faculty address, student speeches, and student awards. All attendees must RSVP through Eventbrite by Friday, April 21.
For more information, please contact Courtney Warkentin (courtney.warkentin@fresno.edu)
The Seminary Gala will be livestreamed! View the event here.
Hooding Ceremony
Date: Friday, May 5, 2023
Ceremony Start Time: 7:00PM
Doors Open at 6:00PM
Location: Fresno Pacific University Special Events Center, Main Campus (1717 S. Chestnut Ave. Fresno CA 93702)
Academic regalia is required. Please refer below to the Purchasing Regalia section on this webpage for information on how to order the regalia you will need.
Tickets
Tickets will be available for pick-up from the Registrar's office on the main campus April 3 – May 4, 2023.
The Registrar's office is open Monday-Friday, 8:30am to 5:00pm.
Each graduate is allotted a total of four (4) guest tickets each. The university will not be handing out additional tickets.
If you do not pick up your tickets prior to May 4th, they will be available for you at will-call the day of the ceremony.
Graduates DO NOT need a ticket for entry – only guests.
Children ages 5 and under DO NOT need a ticket for entry and may sit on another guest's lap. Children ages 6 and up DO need a ticket for entry and will get their own seat.
Livestreaming
We are super excited to announce that this year's Hooding Ceremony will be livestreamed! The ceremony may be viewed live here.
Parking
The Heaton parking lot will be reserved for handicapped parking only.
The closest parking lot to the Special Events Center is the Steinert Athletic Complex, located on the corner of Hamilton/Winery. Otherwise, all lots will be open on campus for guest parking.
Graduate Check-in – May 5th 
You'll need to check in upon arrival to receive your name card. You'll need to write out how your name is pronounced for the name reader (See the last page in the Instructions attachment for information on how to do this).
Check-in will be near the WEST entrance.
There will be pop-up tents for each school. To determine which school you belong to, click here.
Commencement Medallion

Show your FPU pride with a unique zipper-pull medallion to wear on your grad gown. Make a gift to the university of $20.23 or more in honor of your grad year, and we'll thank you by giving you a medallion. Your small gift will have a big impact on students next year through the Scholarship Fund. You will be able to pick up your medallion before the hooding ceremony or in the graduate line-up area before commencement.
If you have any additional questions, please contact Ali Sena at ali.sena@fresno.edu.
FPU Bookshop
The bookshop is located on our main campus and they are open Monday - Friday, 9:00 a.m. - 4:00 p.m. They can be reached by phone at 559-453-2078.
Purchasing Regalia
Regalia is now available for purchase on Josten's Website. To purchase regalia, please visit this webpage.
Please Note:
Online ordering deadline: March 30, 2023 (you need to place your order by this date in order to ensure you receive it in time for commencement).
The Bookshop will have limited supply available for purchase in store. For custom sizing, ordering on Josten's website is encouraged.
You can also order your Souvenir tassels, (these are not to be worn during Commencement) Diploma Frames, FPU Yard signs, and approved Ethnic Sashes on our campus bookstore site.
Students wear the traditional black cap and gown with appropriate colored tassel or graduate hood. Personal embellishments on caps/gowns will not be allowed to be worn during the ceremony, including flower or money leis.
Ethnic Sash Outline & Criteria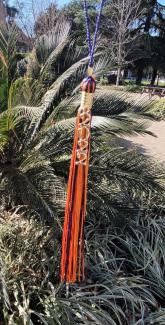 Returns
Regalia returns if purchased through Josten's website may be returned within 30 days of purchase with receipt. All returns must be unopened and in their original packaging. When returning items, please include the following information:
Include name, address, phone number, school name and reason
Write the information on the original package slip if possible
Return to address: Jostens Returns, 501 Lynn Avenue, Laurens, SC 29360
Call or email Jostens Consumer Contact Center with your tracking number at 800-854-7464 or email tracking number to collservpaperwork@jostens.com.
Credit will be issued after receipt of return. No refund on shipping costs.
If you purchased your regalia in store, if may be returned within 30 days before the ceremony and only if unopened. No returns are accepted after Friday, May 5th 2023.
Virtual Ring Events:
Wednesday, March 29, from 10:00a.m. to 2:00p.m. in the Bookstore
Wednesday, April 12, from 10:00a.m. to 2:00p.m. in the Bookstore
Honors Cords:
If you have received Latin honors, you will receive an email in March from the Registrar's office with information about when and where to pick them up. If you have questions about honors cords, please contact the Registrar's office at registrar@fresno.edu
Flower Purchases:
Flowers will be available for purchase on the day of the Master's hooding ceremony at the entrance of the Events Center. On graduation day the Bookstore and Flower vendor will be set up at both entrances of Selland Arena. Flowers as well as FPU merch/gifts will be available day-of and can also be preordered here.